Enter content here
Wednesday, February 24, 2010
Motivational speech at FHS presents 'Five Keys to Happiness'
Dan Daly: Develop, use your gifts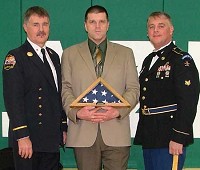 Motivational speaker Dan Daly (from left), FHS Principal Brian Koslofsky and Rusty Ouart posed following Daly's presentation to high school students Thursday. The former New York Fire Department battalion chief talked about "The Five Keys to Happiness." Ouart presented a flag to the school that had flown in Baghdad, Iraq. Photo by John W. Dermody

• by John W. Dermody

If anyone were to look in the dictionary for the word "positive," it would not be a surprise to see Dan Daly's photo alongside the definition.

The retired New York fire battalion chief presented a motivational speech to Frazee High School students Thursday, Feb. 18, in the gym and told each listener they are unique.

"Each and every one of you has a special gift. I want you to develop that gift," he asserted.

Much of his talk was about what he termed "The Five Keys to Happiness." During the afternoon presentation, he also addressed such contemporary topics as violence, bullying, drug abuse, self-development and inner peace.

Daly, with 24 years in the fire service, leaned heavily on his experiences during the 9-11 tragedy centered at the World Trade Center, along with his travels to speak around the globe.

He recounted how it was utter chaos on that fateful morning on what has become known as "Ground Zero," after terrorist-piloted planes hit both of the WTC towers.

Horrific loss of lives

The battalion chief rushed to his station and put a team together to get to the site of the catastrophe. He said it was even necessary for men to commandeer a mail truck so they could join fire teams already there with their trucks and hundreds of pieces of equipment.

"When we got to Ground Zero, it was like another planet ... everyone was covered with a white dust ... and one building was already gone," he explained.

The labor to dig out victims was a gigantic effort in the aftermath of a loss of more than 3,000 citizens. Moreover, he told of the deaths of 343 New York firefighters.

"I worked there on and off for four to six months. We saw the best of mankind and the worst of mankind."

But he emphasized how volunteers "came from all over." As time went by, a 16-acre plot became known as the "City of Angels," because of all the persons who came to help.

Obviously, with the 9-11 event the biggest in his 24-year career as a fireman, Daly said he decided to share his message when he retired. Since then, he has spoken to a multitude of schools, civic organizations and the State Department has sent him to many foreign countries.

"There have been some powerful moments. I've visited many cultures ... and saw poverty and riches."

Focus on youths, values

After earlier noting the loss of 343 of his colleagues on 9-11, he cautioned the young listeners on several topics, while also urging them to use their talents to the fullest.

Daly pointed out that approximately "35,000 young people die in vehicle accidents" each and every year. That huge number, he emphasized, is far more than the normal loss of 110 firefighters across this nation annually.

"Your job is to seek out that talent ... find out what your passion is. This is your time in life to pull that out," he continued.

He asked how many in the assembly were volunteers, and there were lots of hands in the air. The speaker reaffirmed the importance of their activities and appealed to others to follow suit.

Another topic targeted by the visitor was "choose wisely," which meant youths should be very careful about the decisions they make in life.

After visiting many prisons, talking with the inmates and having them pour out their regrets concerning bad decision-making, Daly said one of the most valuable concepts he's found is the ability to mentor others.

One generation to another

As a young firefighter, he learned much from experienced men who taught him a lot that was never covered in books.

"We need good mentors ... everyone needs one."

Daly congratulated those who mentor others every day, not just senior men and women in public safety, but teachers and others in vital positions that work with young people.

Moreover, the speaker said persons "should walk with an attitude of gratitude."

He added, "I know how lucky we are."

Our culture is strong in the United States and people help one another. Americans show their gratitude daily in the way they support others, he stressed.

Daly introduced Frazee High School graduate Rusty Ouart to the audience, a soldier who is on the mend from a head injury suffered in an explosion in Iraq. The soldier has been undergoing hyperbaric treatment at a Louisiana clinic in recent months.

He drew parallels on the impacts made by such persons as Ouart and Tyler Shipman, whose funeral followed in the same gymnasium on Friday.

Both "walked with an attitude of gratitude in this world," he explained, and they did so much for others - one as a student and the other in the military.

During the presentation, Ouart presented a flag to FHS Principal Brian Koslofsky that had flown in Baghdad, Iraq.

Daly had become acquainted with Ouart in the time after 9-11 and decided he wanted to come to Frazee. In addition to Thursday's event, he followed with a speech in Fargo Friday as part of a daylong benefit to raise funds for the Ouart family. Many medical expenses have not been covered by the military.





Article Comment Form
---
Please feel free to e-mail us your comments.

If you intend these comments to appear as a Letter to the Editor, you must start the comment with: To the editor: and include the name of the town you reside in

Note: All information on this form is required. Your telephone number is for our use only.

Enter content here


Enter content here